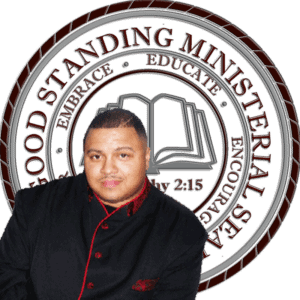 Presiding Bishop of Ministerial Training & Fellowship
Show yourself in all respects to be a model of good works, and in your teaching show integrity, dignity, and sound speech that cannot be condemned, so that an opponent may be put to shame, having nothing evil to say about us. Titus 2:7-8 
In many ways, God has allowed this young man to truly open his heart and soul to those who are truly seeking help. As a man of God he has been effective in changing lives through the work of ministry and as a man of service through the profile of police officer. One may ask how is that possible, but when God place a hand of mercy, love, wisdom, and faith in  the hearts of those whom others may not see, are those who come forth and begin to change the lives of many.
This is who Bishop Waters is, a man of truly wisdom and compassion, putting God first before the decision of man. Even as he move forward in doing his job, he is  love by many, and respected by all for the work he has done within the community and church foundation. It is not common for Bishop Waters to serve God for he is a son of a pastor within the AME foundation, was given the guidance's to be honorable in all that he do, and allow the voice of the Lord lead him on  the right path.
Living a life that is given by grace is never easy, especially when you have people trying to judge you or feel you are doing them wrong, but after speaking with them, and sharing with the word of God, not only do they understand why things are the way they are due to their own decisions, I always hear how please they where for me sharing with them the truth, and how the truth allowed them to make certain changes in their  life. Now not all people may feel that way, but those who do is why I continue to live a life of faith and to strive in helping those God has allowed me to do so. 
Bishop Waters has been in ministry for over 20 years, and continue to shine the love of Christ in every. He has been effective in starting a small but productive biblical educational program for those who are seeking to help  others through the love of Christ, and for those who just has the desire to  learn how to build a personal relationship with Christ.