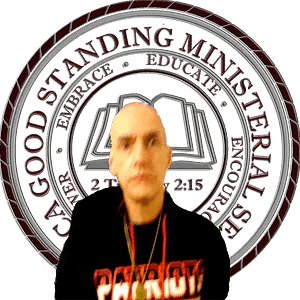 Co-Site Director of Mental Awareness Program
But the wisdom from above is first pure, then peaceable, gentle, accommodating, full of mercy and good fruit, impartial, and not hypocritical.  James 3:17
Our brother In Christ; Ordained Minister Rev. Darren Labrecque has been a Christian for about 33 years.
As a Pentecostal believing that all the spiritual gifts are still at work today in our live as believers in Christ. Rev. Labrecque begin the ministry Bo-Hun Recovery Outreach with his beloved wife Noel. The ministry present more then just caring for others, but also provide a platform that deals with our youth and young adults on a level that many are afraid to address. This platform help understand the concept and the illness of mental awareness from depression, anger management, confusion, lost of love, the feeling of abandonment and so much more.
The ministry strive to counsel and be an advocacy to mental illness within the church as well as within surrounding communities.
I felt called to advocate for those who struggle with mental illness in the church too efficiently equip church leaders and fellow strugglers of psychological illness in proper communication and counseling skills. I have accomplished writing and publishing a book, graduated college with Bachelors in Theology& Biblical Application from Grand Canyon University.
During the years Rev. Labrecque has achieved many goals, from obtaining his certifications as a community advocate under the NLCOM (National Leadership for Community Advocacy & Outreach Ministry", also was blessed to be ordained under UECA Inc. (United Evangelic Fellowship & Christian Faith Assembly), he has also obtain this instructors license from ACTS (Alliances for Christian Training & Theological Seminary Institute) and his license with ICCM.
There is no doubt God has called upon his services and faith, allowing his life to be a strong example, using his own "handicaps,"  as a means to show others God can & will use anyone who has the heart to serve him.
My own mental illness from  A.D.D, Anxiety/Panic Disorder, Learning Disability, Cerebral Palsy-Scoliosis and Depression I became a "closet drinker" or "weekend drinker". But with the love and mercy of the Lord, I am blesse to been clean and sober for over 12 years now!
His goals and purpose for ministry is to create courses for those who struggle with mental illness to receive bachelors degree's as well as obtain a certifications for Christian counseling so that one day they too can be effective in helping others in so many ways, from lay-ministry to support groups, to associates/peer-counselors to assist pastors in the church or ministries.
Rev. Labrecquehas been married to his beloved wife Evangelist N. Labrecque since 2008.