Christian superheroes: Mesquite man creates unique comic book New series debuts original issue at Comic-Con International
Mesquite resident Art Greenhaw has done a lot in his lifetime, and his latest endeavor is a long time in the making.
Greenhaw, a Grammy Award-winning musician, has launched a series of faith-based comic books entitled "God's Silver Soldiers."
"This is a 20-year dream," he said.
The concept to create a comic book with faith-based superheroes first entered Greenhaw's mind when he read religious comic "Francis: Brother of the Universe," a Marvel publication.
"It was real inspiring. I picked it up in a Christian bookstore 35 years ago," he said.
Greenhaw has been an avid comic book reader for most of his life, and he touts his friend and comic book royalty Stan Lee among his biggest influences and one who inspired him to create a Christian-superhero comic book series.
"It was almost 20 years ago today that my mentor and friend, Stan Lee, and I first began discussing our wish to bring the much-needed messages of morality and spirituality to today's youth and to do it through the medium of comic books," Greenhaw states in the original issue.
Greenhaw said he reached out to Lee in the 1990s with the idea of doing a Christian-based comic book series.
"I thought it would be a perfect way to get out moral and spiritual messages. He called me and loved the idea," Greenhaw explained.
The two exchanged faxes and calls over the years, but the concept never came to fruition.
"We just never could get anything produced," Greenhaw sai. "I was waiting for his people to do things, and at that time he had a company with 100 employees.
"Comic books are like records but more minutia. You wouldn't believe the amount of minutia involved. A lot of times as an artist, it's important just to do something."
Greenhaw was able to show the original artwork panels of "God's Silver Soldiers" to Lee when he was in town for the recent 2016 Dallas Fan Expo.
Greenhaw decided to take the leap and work with some local collaborators to start the series this year.
Among his collaborators was Forney-based comic book illustrator Ben Dunn and his wife, Rebecca, daughter of an evangelical Methodist minister from whom Greenhaw grew up learning.
Dunn, who illustrated the "God's Silver Soldiers" original issue, will be signing and selling the debut issue at this weekend's Comic-Con International event in San Diego.
The debut issue was created as an oversized art book.
"No one has ever been able to figure out how to do Christian superheroes. We are going to have four or five titles under the Truthmonger brand," Greenhaw said. "This is the roll out of the origin issue."
Greenhaw recently presented a signed panel from the origin issue to Texas Gov. Greg Abbott, whose wife, Cecilia , serves as the inspiration for one of the comic book's six characters.
"She's the first Mexican-American First Lady since the Republic days of Texas and is real active in the pro-life movement," he said.
Greenhaw decided to use an oversize format to offer readers with eyesight issues, such as the elderly, the ability to read the words.
"They can read it so much easier. Ben said when he saw the pages, they were a 'stroke of genius.' He imagined a full comic book being that size where people of all ages could read and enjoy it like an art book," he said.
Greenhaw expects there to be some resistance to the concept, but he's prepared to stay the course. "There are some people that just want to fight religious and moral principles. We are already committed to do a series of these."
Truthmonger Comics Group aims to release an issue every two months once it establishes a fan base. Every time it receives four issues in a set, it would like to package them in a graphic novel.
Article by: Kenny Green kgreen@starlocalmedia.com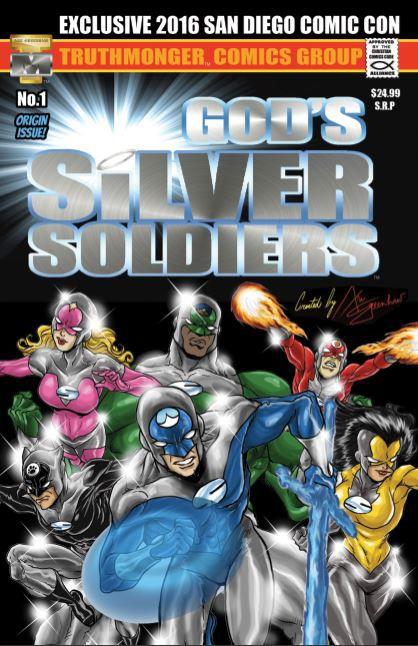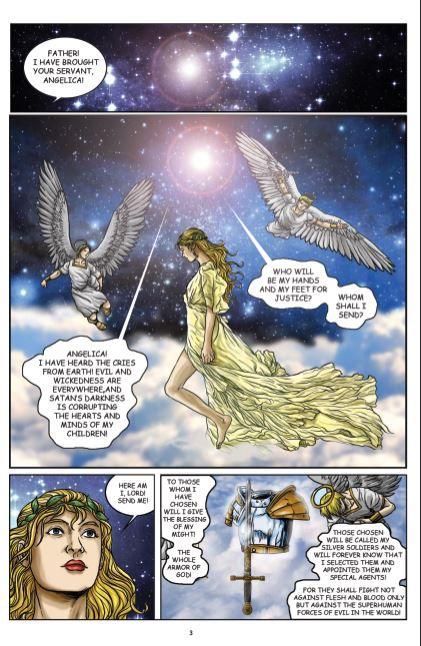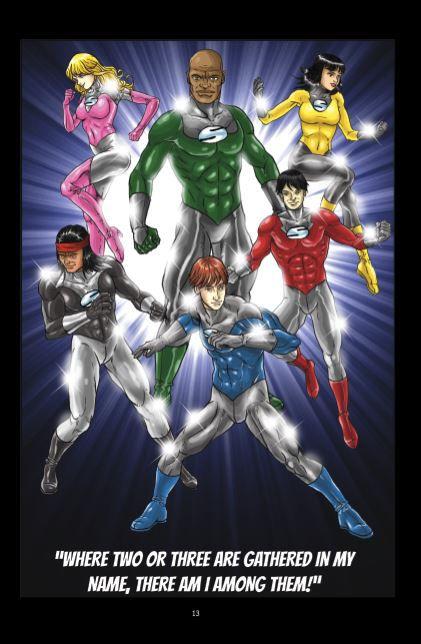 Artwork courtesy of Art Greenhaw
"God's Silver Soldiers," a Christian-themed comic book series, will make its debut this weekend at Comic-Con International in San Diego